Roll over image to zoom in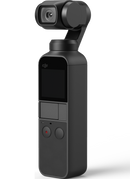 Description
DJI Osmo Pocket Gimbal
USB-C Adapter 
Lightning (iOS) Smartphone Adapter
Charging Cable
Cover
The DJI Osmo Pocket Gimbal is a lightweight gimbal stabilizer and 4K camera combination that is compact enough to carry wherever you go. Weighing just over four ounces and measuring only 4.8" high, this all-in-one unit features 3-axis stabilization to smooth out your movements. The Osmo Pocket incorporates a 1/2.3" sensor and a wide f/2.0, 80° angle-of-view lens to record up to 4K60 cinematic video and 12MP still photos on up to a 256GB microSD card. Unlike a similarly sized smartphone, the candy bar-sized Osmo Pocket offers intelligent functions like Active Track, FaceTrack, and Motionlapse to create compelling, creative effects. Choose between 180° and 3 x 3 panoramic shots to capture wide landscape vistas. The FPV mode provides a selfie perspective, and NightShot can be used to capture moonlit or low-light scenes. Use DJI's Mimo app and your smartphone to polish your footage with preset shooting patterns, camera motions, filters, and soundtracks. Connect the Osmo Pocket via the included USB Type-C or Lighting adapters to use your smartphone as a larger viewfinder. Add the separately available Wireless Module for remote control and transmission. A Pro mode enables you to adjust the camera's ISO and exposure settings for maximum creativity. The Osmo Pocket's passive cooling system quietly dissipates heat, and a rechargeable battery enables the camera to record up to 140 minutes of 1080p video. Accessories like ND filters, a retractable extension stick, a waterproof case, and an accessory mount are available separately to round out your Osmo Pocket experience.
Gimbal Camera with 1/2.3" CMOS Sensor
Compact 4.1 oz, 4.8" High Design
Up to 4K Video at 60 fps, up to 100 Mb/s
12MP JPEG or DNG Raw Still Photos
Includes Lightning & USB Type-C Adapters
Connects to Smartphone as Larger Display
Optional Wi-Fi & Bluetooth Monitoring
POV, ActiveTrack & FaceTrack Modes
Standard Time-Lapse & Motionlapse
NightShot & Panoramic Modes
Payment & Security
Your payment information is processed securely. We do not store credit card details nor have access to your credit card information.